The Womanity Foundation has appointed Laura Somoggi and Shivani Gupta as its Co-CEOs
We are pleased to announce that Laura Somoggi and Shivani Gupta have been appointed co-CEOs of the Womanity Foundation as of June 2022. Laura and Shivani had acted as co-CEOs since the exit of our former CEO Rana Askoul in April 2022.
This is the first time in the 17 year history of the Foundation that the role has been held by two people. They have been part of the Foundation's Leadership Team in recent years and have had the opportunity to shape Womanity's vision and strategy.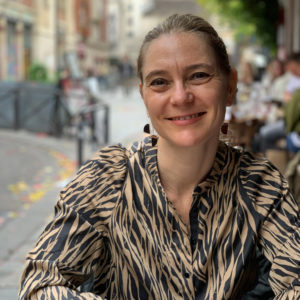 Laura joined Womanity in 2017 to lead Womanity Award, our program focused on the prevention of violence against women and girls. She is an accomplished international development professional with a deep understanding of gender equity and women's rights, trust-based philanthropy and strategic cross-sector partnerships. She has focused her last 15 years of work on global projects that deliver positive social impact and brings both practical skills and a strategic approach to the process of change. She is especially adept at working in complex and multi-cultural environments, with a diverse set of decision-makers, having led programmes in more than 15 countries. Before Womanity, she worked in Unilever for nine years, managing global partnerships with INGOs and UN agencies on international development programs. Her experience in the corporate sector followed a 10-year career as a business journalist in her home country, Brazil.
Shivani joined Womanity in 2020 to lead our programs in India and is responsible for the successful launch of our newest program focused on Women's Land Rights. She moved to do social impact work around five years ago, after more than 20 years in the consulting and technology sectors. Having spent most of her career with global consulting companies like Capgemini, Shivani has deep experience in conceptualising business solutions, successfully implementing large complex business and technology transformations, and programs. Her transition to the development sector started at Dasra where she worked closely with adolescent-centric issues and helped to strengthen non-profits focused on adolescents'well-being, health, education, and employability.
Introducing the new co-CEOs, Yann Borgstedt, the Womanity Foundation's Founder and President said:
"Collaboration and working in partnerships are part of Womanity's DNA. They are two core values that guide us on what we do and how we do it. By embracing a model of joint leadership, we are bringing this value to yet another dimension of the organisation. Laura and Shivani bring complementary skills and experiences alongside their aligned values and common passion for our cause: improve the current state of women's and girls' rights and opportunities to achieve gender equality. They understand the complexity of the challenge that is to change social norms, challenge gender stereotypes and move against the backlash women's rights have been facing. Their lived experience coming from the Global South and working with several women's rights organisations around the world have helped them to create trust-based, strong relationships with different actors in the eco-system".
Commenting on her appointment, Womanity co-CEO, Laura Somoggi, said:
"I feel very honoured and humbled to have the opportunity to co-lead the Foundation with Shivani. I strongly believe in the power of equitable partnerships to decolonise development. At Womanity, we support organisations, movements and individuals that have both lived experience in different contexts and practice-based knowledge, which are critical to driving social change. We have an amazing and supportive team with us, and we are all committed to deepening the impact of our work towards a more just and equitable world."
Commenting on her appointment, Womanity co-CEO, Shivani Gupta, said:
"Co-leading with Laura is an honour and an opportunity to broaden the narrative around equality for women and girls globally. When I transitioned to the development sector, my goal was to combine my passion for women's rights and my experience in conceptualising and implementing large complex business and transformation programs to create systemic change. Being at Womanity has allowed me to realise this aspiration and to have a much deeper understanding of the work that needs to be done to challenge long-standing social norms that enable so much inequality."
Laura and Shivani are looking forward to working with the team and our diverse group of partners and funders to do everything we can to make Womanity's mission a reality: accelerate gender equality through investments in audacious, innovative and sustainable solutions so we can move towards a more just and equitable world for women and girls.