VIOLENCE AGAINST WOMEN PREVENTS WOMEN FROM PARTICIPATING FULLY IN THEIR
COMMUNITIES, WHICH HAS SIGNIFICANT HUMAN AND ECONOMIC COSTS FOR SOCIETY.

ALTHOUGH THERE ARE MANY STRONG PROGRAMMES ADDRESSING VIOLENCE AGAINST
WOMEN GLOBALLY, FEW CATALYSE PARTNERSHIPS BETWEEN ORGANISATIONS IN DIFFERENT
COUNTRIES, AND SUPPORT A THOROUGH ADAPTATION PROCESS TO NEW GEOGRAPHIES.
The Womanity Award's unique model enables organisations fighting violence against women to adapt and scale proven innovative models with a local partner. The Award provides funding, capacity building and access to networks that enable the project's impact to be leveraged and replicated.
TAXI DRIVERS SAFETIPIN TRAININGS, SOUTH AFRICA
WOMANITY AWARD RECIPIENTS
The Womanity Award has gone through 3 editions to date, each with a different focus:
Womanity Award 1:
Engaging Men and Boys to Fight Gender Based Violence –
Promundo
(US-Brazil) &
Abaad
(Lebanon)
Womanity Award 2:
Tackling Online Violence Against Women –
Association for Progressive Communications
(South Africa) &
Luchadoras
(Mexico)
Womanity Award 3:
Creating Safe Urban Environments for Women –
Safetipin
(India) &
Soul City
Institute (South Africa)
Womanity Award 4:
Call for pr oposals are now open! For more info click
here
.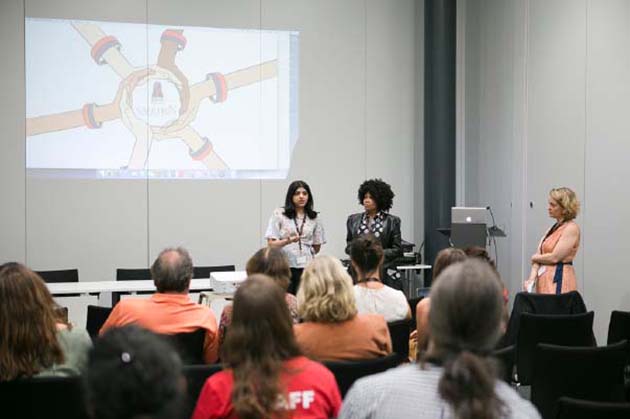 In June 2018, we completed the selection process for the third Womanity Award, focusing on programmes that are creating safer urban environments for women. We received 70 nominations across 26 countries from five continents. After a rigorous assessment and due diligence process, three pairs of organisations were shortlisted and presented their joint proposal to a panel of experts.
The pairs are composed of an Innovation Partner – the organisation that has already developed a successful programme – and a Scale-Up Partner to contextualise, adapt and roll out the approach in a new location.
Our Womanity Award 3 recipients – Safetipin and Soul City Institute for Social Justice – were announced at the conference Tech4Dev: Voices of the Global South, in Lausanne, Switzerland.
The partners are working together to adapt a mobile technology platform to improve safety for women in South Africa.
The flagship app – My SafetiPin – places red, orange and green pins on digital city maps indicating which areas are the safest for women. The app uses pictures taken by taxis and crowdsourced data from volunteers to show how safe different areas of the cities are for women. Factors assessed include lighting, quality of walk/ cycle paths, gender balance in the streets and general feeling of safety. The app is currently being used by over 100,000 people in countries such as India, Kenya, Colombia, Indonesia and Vietnam.
The big data captured with the app will be shared with eThekwini's municipal government, in South Africa, who will use it for their Safer Cities strategy. Our project aims to benefit women and girls further by advocating for long-term improvements in urban planning.
In 2019, Safetipin and Soul City Institute for Social Justice made really good progress on the programme to improve the safety for women in eThekwini municipality, East coast of South Africa.
To adapt the Safetipin App to the local context, some of the first steps were to understand women's experiences when using public transport and taxis, train volunteers to conduct safety audits and collect data about the city's infrastructure. It was also key to establish the multi-stakeholder partnerships that are critical to the implementation and sustainability of the project.
Some of their main achievements in 2019 were:
◼ Soul City conducted research in the communities where they work and the findings were used by Safetipin to build a new app platform that will be used to address women's concerns about accessing pulbic transport.
◼ Establishment of multi-stakeholder partnerships, including representatives from Safe City Unit of eThekwini Municipality, the National Taxi Association, local organisations and volunteer groups.
◼ Capacity building of young women. In November 2019, the team from Safetipin India trained 30 programme volunteers to use the 'My Safetipin' app to audit public spaces.
◼ Taxi Drivers' Training. Drivers were trained to use the 'Safetipin Nite'app to collect night images of the street which will be critical to analyse the infrastructure of the city (i.e: lighting).
◼ Participation in the Africa Forum for Urban Safety (AFUS). Soul City and Safetipin were invited by the eThekwini municipality to present to mayors from many African cities and raise awareness about their work in South Africa.
◼ Organisational development of both Safetipin and Soul City. They finalised a detailed process of needs assessment of their organisational capacities and are working towards their institutional development.
◼
www.safetipin.com
◼
www.soulcity.org.za
Error: Contact form not found.
By clicking 'Subscribe to our emails' I accept the terms and conditions of the privacy policy and consent to receiving email updates and stories from The Womanity Foundation.
ANNUAL REPORTS AND ASSETS